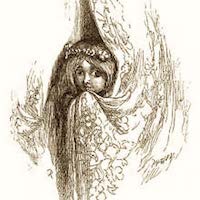 It's a GRIMM Day-a-Dawnin'
Okay, just to recap…
Dustbin girl makes the big dance, boogies down with boy-wonder Prince Charming
Dustbin girl beats steps-sisters to "Find A Prince" finish line by a foot… in a glass slipper
Cinderella (moi) becomes a Princess and her Prince becomes less-than-charming
Princess Bride Cindy becomes badgered by a real mother… as in Mother Hubbard, her real mom who now finally wants to be with her daughter who's a princess in the big castle with lots of closet space and unlimited spending money and yada yada yada…
The Prince's secret past jumps into the present when our Cinder-girl learns that he used to be a frog. That's right – a frog!  Curse those curses!
A marital retreat with that nice Van Winkle couple turns into a 7 MONTH snooze-fest
Up to speed now?  Well, I'm not.  In the "while you were sleeping" version of my life, I found out that Mummsy Hubbard has gone from being "trouble" to being in trouble.  And it all has to do with that scheming bunch –  GRIMM BROTHERS ENTERTAINMENT.  These are the guys that put me in a house with some mean, ugly step-women because "it made a good story."
Yep.  They're the ones that have infested Fairytale Land with Trolls, goblins, witches, wolves and frog-cursed Princes.  Now they've become a media monolith – and they've hooked the Hubbster, Auntie Goose and my half-sisters into who knows what kind of story!
Maybe I should just crawl back in bed…